October 2, 2016
WELCOME VISITORS! We are so glad you visited today. You are important to us! We hope you will be encouraged by the service today. If you are visiting for the first time, please fill out the visitor tab from the Welcome Brochure. You may take it to the Connections Table for a free gift.
MISSION SUNDAY: Today is Mission Sunday. Summit Church helps support these missionaries:
Steve & Carolyn Chulick-Malaysia & India
Nahari & Lata Thorat-India
John and Shirley Cissell-Panama
Voice of the Martyrs
We encourage you to give a special offering to help support our missionaries. To find more about Summit Church's missionaries and to sign greeting cards for them, stop by the Mission Table. These cards are very important to the missionaries. There is also information on Summit's missionaries on Summit's website.
HEART'S DESIRE: The Heart's Desire Fund is a special way to reach out in love to a woman on the mission field. This month, we will be collecting for the Voice of the Martyrs Widows Fund. This fund helps families of Christian martyrs around the world. Donations may be made at the Mission Table.
TEENS! If you're a teenager between in grades of 7-12, we have anti-Gravity Youth Night coming up this Wednesday, Oct. 5, from 6:30-8 PM. Make plans to come & bring lots of friends! We are currently in need of a helper for this event.
HELPING KIDS AROUND THE WORLD: A Higher Standard Women's Ministry is hosting an Operation Christmas Child shoe box packing party on October 16, right after the service. There will be food, fun, and fellowship as we pack shoeboxes full of love and blessings, sending the gospel of Jesus Christ to children around the world. It is a family event so bring a dish, hot or cold, to share, and a heart full of love. We will be collecting supplies through next Sunday, October 9. The shoeboxes, shipping labels, and the gospel message will be provided. Everyone is to bring a special note to place in a box. Stop by the Connections Table to sign up to bring goodies for the boxes.
ENCOUNTER MEETING: Have you ever wondered how to study the Bible or asked questions like:
• What does it mean?
• What is supposed to be taken literally and what is symbolic?
• What about all of the laws in the Old Testament?
• How do I figure out what the meaning is of certain passages?
Our next Encounter meeting will be titled, "Bible Basics." Learn how to understand and study the word of truth in these 4 classes in October.
This study will start this Wednesday, Oct. 5, from 6:30-8 PM. Encounter meetings are 4 week in-depth studies of the Word of God. Everyone is invited to join in!
CHRISTMAS IN NOVEMBER: Ladies, Christmas in November is coming up on Nov. 11. Christmas in November is an awesome evening for ladies, age 5 & up. Sign up at the Connections Table today, if you would like to help.
WAYS YOU CAN BECOME A VOLUNTEER: Here are a few places that need volunteers:
• Nursery
• Children's Church urgently needs one teacher and one helper and some stand by helpers
• Youth Night helpers
• Projection
• Ushers
• Coordinating Thanksgiving and Christmas Benevolence
• Worship Team-bass player, guitar player, male singers
AMBASSADORS: The Bible calls Christians AMBASSADORS for Christ. "We are therefore Christ's ambassadors, as though God were making his appeal through us." 2Cor 5:20 NIV Look for opportunities this week to share Jesus! Continue to pray for boldness and the direction of the Holy Spirit as you share Christ. Pick up some extra tracts from the Connections Table!
FALL CLEAN UP: Join us on Saturday, Oct. 15, from 9-12 to help clean up the church grounds. Bring your yard tools. Refreshments will be served.
UPRISING: The fall youth retreat, Uprising, is coming up on Nov. 4-6 for grades 6-12. It will be held at Summer Scream Youth Camp in Rushville, IL. Details can be found at summerscream.org.
UPCOMING EVENTS
Oct. 5 6:30-8 PM anti-Gravity Youth Night
Oct. 5 6:30-8 PM Bible Basics Encounter meeting
Oct. 9 10 AM & 6 PM Anne Durant
Oct. 15 9-12 Fall Outdoor Clean Up Day
Oct. 16 Operation Christmas Child Shoebox packing party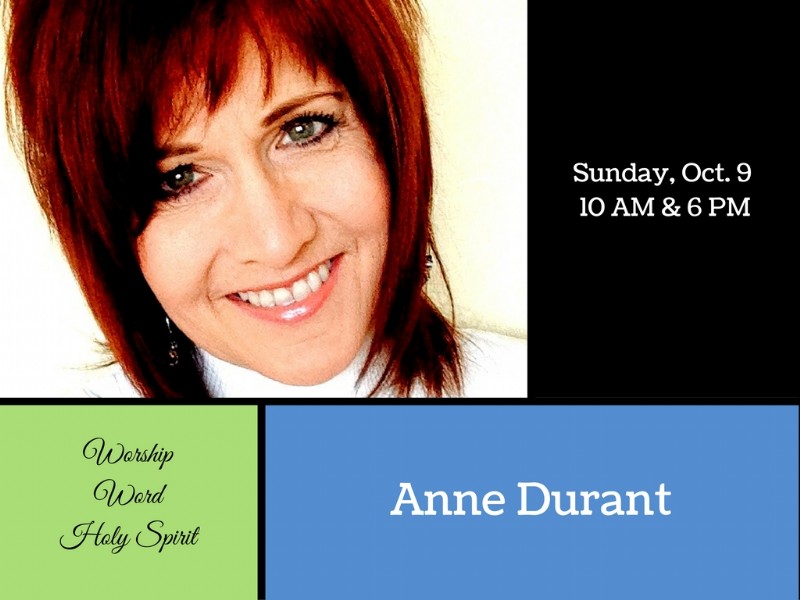 MARK YOUR CALENDARS: Anne Durant will be ministering at Summit Church on Sunday, Oct. 9 at 10 AM & 6 PM. If Anne Durant had one desire for you, it would be that you "get it." That you "get" God's Word and that it makes enough sense to you in your everyday life to use it! Only the anointing of God can reach into your life and transform it to that degree. That anointing is apparent in Anne's vibrant teaching, preaching, healing, and music ministry. She combines an accurate use of the Word along with humor-filled everyday examples that make the principles of faith easy to understand and put into practice. Her smile is infectious; she'll make you laugh while God opens your heart and does His work.
DOING A GOOD WORK~HELPING PEOPLE