August 30, 2015
WELCOME VISITORS! We are so glad you visited today. You are important to us! We hope you will be encouraged by the service today. If you are visiting for the first time, please fill out the visitor tab from the Welcome Brochure. You may take it to the Connections Table for a free gift.
SPECIAL GUESTS! Today we welcome John and Shirley Cissell, our missionaries to Panama. They are busy establishing Bible Colleges, training local pastors, and always finding opportunities to share about Jesus. Be sure to stop by the Mission Table to greet them.
ICE CREAM! After the service, we will be having ice cream for everyone! Stop by the Nursery for ice cream, then go to the foyer for the condiments. Stay a while and get to know someone new!
ENCOUNTER MEETINGS: Our next Encounter Meeting is "Flowing with the Holy Spirit" on Wednesdays, Sept. 30-Oct. 2, from 6:30-8 PM. Many Christians think the only time the Holy Spirit moves is in the church service. While He does move in church services, He also wants to move in our everyday lives. These Encounter Meetings will teach us how to flow with the Holy Spirit in every area of our lives. We will be using the book, "Gifts of the Holy Spirit" by Kenneth E. Hagin. Books are $5 each, due by Sept. 13. Sign up for the class and for the book at the Connections Table.
CAN YOU HELP? George Wolf would like a ride to church twice a month. If you can help out, on a rotating basis, please see Dale or Donna Francis. If you could only drive one way, we would still like your help!
SHARING JESUS: We have been sharing the gospel through the passing out tracts for 62 weeks now. If 30 people in the church have faithfully passed out one tract per week, we have reached 1,860 people with the gospel! Continue to pray for boldness and the direction of the Holy Spirit as you share Christ. Take as many tracts and Life Books from the Connections Table as you like.
INVESTORS: Are you ready to invest your time and talents in the kingdom of God? Start volunteering at Summit! There are many ways to get involved! There are needs in the Helps Ministry, Children's and Nursery, Worship Team and Projection. Pick up a Volunteer application from the Connections Table if you are interested.
SHOEBOXES NEEDED! A Higher Standard at Work is making Operation Christmas Child boxes this fall. We are in need of 20 empty shoeboxes. Please drop shoeboxes off at the Connections Table.
OUTREACH: Did you know that Summit Church's facebook page is an outreach of Summit Church? We ask that you support this outreach by liking "Summit Church Fenton" on facebook. When more people "like" the facebook page, our posts are sent out to more people, thus our outreach grows.
PRISON MINISTRY: Join us Monday, Sept. 14, from 9-3 PM, to assist Joyce Meyer Ministries prepare care packages for prisoners. If you can only come for an hour, you will be a great blessing! For more information, call the church office at 636-861-1410. All volunteers are given a voucher for a free item at their bookstore.
UPCOMING EVENTS
Aug. 30 Ice Cream Social after the service
Sept. 14 9-3 Prison Ministry with Joyce Meyer Ministries
Sept. 17-19 Joyce Meyer Ministries' Love Life Conference for women
Sept. 20 Church Anniversary. Guest Ministers-Kevin & Anne Durant
Sept. 27 Volunteer Appreciation Sunday
MISSIONARY FOCUS
John & Shirley Cissell
Panama
J&S Ministries has been called by our Lord to evangelize the people of Panama! The vision the Lord gave them is to train nationals as disciples so they can raise up disciples within their own communities. This promotes long-lasting propagation of the Gospel throughout Panama and other parts of the world. The people of Panama have access to other countries that we do not!
The Cissells have been on the mission field many years and started their mission work in Costa Rica. They have started many Bible Colleges, some of them in prisons, have assisted local churches and have ministered to children and to the poor.
All of this means there are more, Evangelists, Prophets, Pastors, Teachers and Apostles, who are raising up more disciples! More and more people are getting saved as a result! Stop by the Mission Table and get acquainted with one of our missionary couples.
DOING A GOOD WORK-HELPING PEOPLE
Special Meetings!
Sunday, Sept. 20
10 AM & 6 PM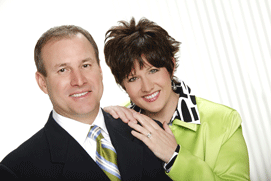 Kevin and Anne Durant will be ministering.

Kevin and Anne Durant are a dynamic team of communicators who unite God's unchanging truth with the unique experience of His presence. It's their passion to see people connect with the Word of God in practical, real life situations so that they experience God Himself in their everyday lives.
They present the Christian experience as a journey of excitement and discovery by proclaiming the truths of uncompromising faith, supernatural healing, the person and power of the Holy Spirit, and living a successful life. Their diverse delivery, whether simple, sincere teaching or bold and passionate preaching, combined with comic relief and both peaceful and dramatic encounters with the Holy Spirit's gifts, connects them with audiences of all ages.
Because they both preach and teach as well as minister in music, Kevin and Anne offer a unique combination of ministry. Countless lives have been transformed through the inspired teaching, spiritual gifts and the healing presence of God He has equipped them with. They have a deep appreciation and honor for the local church and its pastor and their desire is to support, nurture and enhance the vision in each church as they minister.