HELPING OTHERS
Summit Church strongly believes in reaching out. Jesus taught us to treat others as we would treat Him.
I needed clothes and you clothed me, I was sick and you looked after me, I was in prison and you came to visit me.'
"Then the righteous will answer him, 'Lord, when did we see you hungry and feed you,
or thirsty and give you something to drink?
When did we see you a stranger and invite you in, or needing clothes and clothe you?
When did we see you sick or in prison and go to visit you?'
"The King will reply, 'I tell you the truth, whatever you did for one of the least of these brothers of mine,
you did for me.' Matt 25:36-40 NIV
Projects are planned throughout the year. We have collections of food and other itmes for the needy on a regular basis.
A Higher Standard Women's Ministry has several outreach projects throughout the year.
On a monthly basis, volunteers from Summit help Joyce Meyer Ministries prepare gospel care packages for prisoners.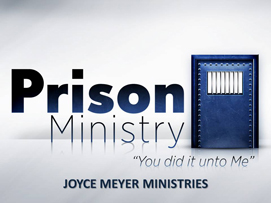 Upcoming 2018 Prison Ministry dates
March 19
April 16
May 21
June 18
July 16
Aug. 20
Sept. 17
Dec. 3 Potluck